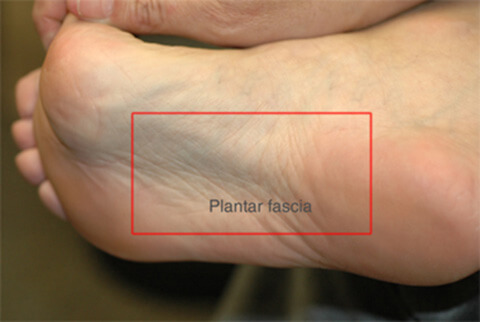 Overview
Plantar fasciitis is a common cause of heel pain in adults. The disorder classically presents with pain that is particularly severe with the first few steps taken in the morning. In general, plantar fasciitis is a self-limited condition. However, symptoms usually resolve more quickly when the interval between the onset of symptoms and the onset of treatment is shorter. Many treatment options exist, including rest, stretching, strengthening, change of shoes, arch supports, orthotics, night splints, anti-inflammatory agents and surgery. Usually, plantar fasciitis can be treated successfully by tailoring treatment to an individual's risk factors and preferences.
Causes
Identified risk factors for plantar fasciitis include excessive running, standing on hard surfaces for prolonged periods of time, high arches of the feet, the presence of a leg length inequality, and
flat
feet. The tendency of
flat
feet to excessively roll inward during walking or running makes them more susceptible to plantar fasciitis. Obesity is seen in 70% of individuals who present with plantar fasciitis and is an independent risk factor. Studies have suggested a strong association exists between an increased body mass index and the development of plantar fasciitis. Achilles tendon tightness and inappropriate footwear have also been identified as significant risk factors.
Symptoms
The most common symptom is pain and stiffness in the bottom of the heel. The heel pain may be dull or
sharp
. The bottom of the foot may also ache or burn. The pain is often worse in the morning when you take your first steps, after standing or sitting for awhile, when climbing stairs, after intense activity. The pain may develop slowly over time, or come on suddenly after intense activity.
Diagnosis
Your doctor may look at your feet and watch the way you stand, walk and exercise. He can also ask you questions about your health history, including illnesses and injuries that you had in your past. The symptoms you have such as the pain location or when does your foot
hurts
most. Your activity routine such as your job, exercise habits and physical activities preformed. Your doctor may decide to use an
X-ray
of your foot to detect
bones
problems.
MRI
or ultrasound can also be used as further investigation of the foot condition.
Non Surgical Treatment
Sometimes physical therapy modalities are helpful. The most frequently used modalities include ultrasound (high frequency sound vibrations that create a deep heat and reduce inflammation) and galvanic electrical stimulation ( a carefully applied intermittent muscular stimulation to the heel and calf that helps reduce pain and relax muscle spasm, which is a contributing factor to the pain). This treatment has been found most effective when given twice a week. Repeated taping and padding is sometimes used. The felt pads that will be strapped to your feet will compress after a few days and must be reapplied. While wearing them they should be kept dry, but may be removed the night before your next appointment. Resistant cases of heel pain caused by plantar fasciitis, heel spurs or cases of stress fracture of the calcaneus often need to be placed in a removable below knee cast boot. It is important to be aware of how your foot feels over this time period. If your foot is still uncomfortable without the strapping, but was more comfortable while wearing it, that is an indication that the treatment should help. Remember, what took many months or years to develop can not be eliminated in just a few days.
Surgical Treatment
The most common surgical procedure for plantar fasciitis is plantar fascia release. It involves surgical removal of a part from the plantar fascia ligament which will relieve the inflammation and reduce the tension. Plantar fascia release is either an open surgery or endoscopic surgery (insertion of special surgical instruments through small incisions). While both methods are performed under local anesthesia the open procedure may take more time to recover. Other surgical procedures can be used as well but they are rarely an option. Complications of plantar fasciitis surgery are rare but they are not impossible. All types of plantar fasciitis surgery pose a risk of infection, nerve damage, and anesthesia related complications including systemic toxicity, and persistence or worsening of heel pain.
Prevention
Stretching the plantar fascia and the calf muscle area can help to prevent inflammation. Slowly increasing the amount or intensity of athletic activities by graded
progression
can also help to prevent injury. Recommended Stretches: Taking a lunge position with the injured foot behind and keeping your heels
flat
on the floor, lean into a wall and bend the knees. A stretch should be felt in the
sole
and in the Achilles tendon area. Hold the stretch for 20-30 seconds. Also try this stretch with the back leg straight.