Overview
Lengthening is usually done by corticotomy and gradual distraction. This technique can result in lengthenings of 25% or more, but typically lengthening of 15%, or about 6 cm, is recommended. The limits of lengthening depend on patient tolerance,
bony
consolidation, maintenance of range of motion, and stability of the joints above and below the lengthened limb. Numerous fixation devices are available, such as the ring fixator with fine wires, monolateral fixator with half pins, or a hybrid frame. The choice of fixation device depends on the desired goal. A monolateral device is easier to apply and better tolerated by the patient. The disadvantages of monolateral fixation devices include the limitation of the degree of angular correction that can concurrently be obtained; the cantilever effect on the pins, which may result in angular deformity, especially when lengthening the femur in large patients; and the difficulty in making adjustments without placing new pins. Monolateral fixators appear to have a similar success rate as circular fixators, especially with more modest lengthenings (20%).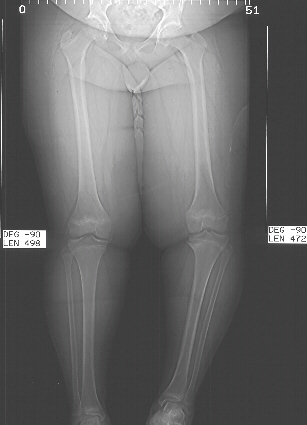 Causes
Some limb-length differences are caused by actual anatomic differences from one side to the other (referred to as structural causes). The femur is longer (or shorter) or the cartilage between the femur and
tibia
is thicker (or thinner) on one side. There could be actual deformities in one femur or hip joint contributing to leg length differences from side to side. Even a small structural difference can amount to significant changes in the anatomy of the limb. A past
history
of leg fracture, developmental hip dysplasia, slipped capital femoral epiphysis (SCFE), short neck of the femur, or coxa vara can also lead to placement of the femoral head in the hip socket that is offset. The end-result can be a limb-length difference and early degenerative arthritis of the hip.
Symptoms
As patients develop LLD, they will naturally and even unknowingly attempt to compensate for the difference between their two legs by either bending the longer leg excessively or standing on the toes of the short leg. When walking, they are forced to step down on one side and thrust upwards on the other side, which leads to a gait pattern with an abnormal up and down motion. For many patients, especially adolescents, the appearance of their gait may be more personally troublesome than any symptoms that arise or any true functional deficiency. Over time, standing on one's toes can create a contracture at the ankle, in which the calf muscle becomes abnormally contracted, a condition that can help an LLD patient with walking, but may later require surgical repair. If substantial enough, LLD left untreated can contribute to other serious orthopaedic problems, such as degenerative arthritis, scoliosis, or lower back pain. However, with proper treatment, children with leg length discrepancy generally do quite well, without lingering functional or cosmetic deficiencies.
Diagnosis
The evaluation of leg length discrepancy typically involves sequential x-rays to measure the exact discrepancy, while following its
progression
. In addition, an
x-ray
of the wrist allows us to more carefully age your child. Skeletal age and chronological age do not necessarily equal each other and frequently a child's bone age will be significantly different than his or her stated age. Your child's physician can establish a treatment plan once all
the facts
are known: the bone age, the exact amount of discrepancy, and the cause, if it can be identified.
Non Surgical Treatment
The way in which we would treat a LLD would depend on whether we have an anatomical or functional difference. To determine which one is causing the LLD you will need to get your legs measured. This is the easiest way to determine if it is anatomical or functional. With a functional LLD we must first determine the cause and treat the cause. Should the cause be one that is not correctable then we may need to treat the LLD as if it were an anatomical or may have to treat the opposite leg to
improve
one's gait. As for the anatomical LLD, we may start off with a heel lift only in the shoe and follow up to see if we will need to put the lift full
sole
on the bottom of the shoe. This is determined by the affects that a heel lift in one shoe may have on that
knee
. Should the LLD be more than 1/4 inch we usually recommend starting between 1/8 inch to 1/4 inch less than the actual amount and let the body adjust to the change and then raise up to the measured amount later.
how do you get taller in a day?
Surgical Treatment
Large leg length inequalities can be treated by staged lengthenings or by simultaneous ipsilateral femoral and tibial lengthenings. Additionally, lengthenings can be combined with appropriately timed epiphysiodesis in an effort to produce leg length equality. Staged lengthenings are often used for congenital deficiencies such as fibular hemimelia, in which 15 cm or more may be needed to produce leg length equality. We typically plan for the final lengthening to be completed by age 13 or 14 years, and allow at least 3 years between lengthenings. Lengthening of both the
tibia
and femur simultaneously requires aggressive therapy and treatment of soft tissue contractures. Curran et al[57] reported the need for surgical release of soft tissue contractures in 3 of 8 patients treated with simultaneous ipsilateral femoral and tibial lengthenings. Lengthening over an IM nail can be done in an effort to decrease the amount of time the fixator needs to be worn and to prevent angular malalignment. This technique requires that the patient be skeletally mature and it carries a higher risk of osteomyelitis (up to 15%). Additionally, if premature consolidation occurs, a repeat corticotomy is more difficult.